Travel - Choosing the Right Accommodation for Your Stay
---
Whether you are a corporate traveler, solo traveler, family traveler or traveling with your partner, you all have one thing in common; you all need to have a place to stay overnight. You might choose a penthouse suite in a luxurious hotel, or a bed and breakfast in town. You might book a room in a hotel as you would like to enjoy the amenities, or you might choose a campsite as it fits more into your budget. In the end, we all seek the same: Great value for money.
Most of us can define the difference between a resort and a bed & breakfast, or a campsite and a hostel but once talking about the difference between a hotel and a motel, it gets a little hard.
So, what is the difference between a motel and a hotel?
Briefly, a hotel is often located in urban areas, close to the action where travelers mostly stay for a few nights. Besides accommodation, hotels offer you amenities such as swimming pools, spa's, restaurants, and gyms.
A motel could usually be found along highways or touristic attractions outside the city and only provide accommodation. Usually, the prices of a motel are lower than those of a hotel.
Now, what if you are looking for accommodation with great value, but do not want to give in on comfort, location, or amenities? Then you choose The Metrotel - because we are your motel that acts like a hotel.
Read further to find out what we exactly mean by this!
Location, Location, Location
We are a motel that is right in the hearth of New Plymouth's CBD. We are located on 22 Gill Street which is between the award-winning coastal walkway and our main street, Devon Street. The airport is only a 15-minute drive, and the bus terminal is within walking distance. While staying with us, all your activities are only a stone's throw away.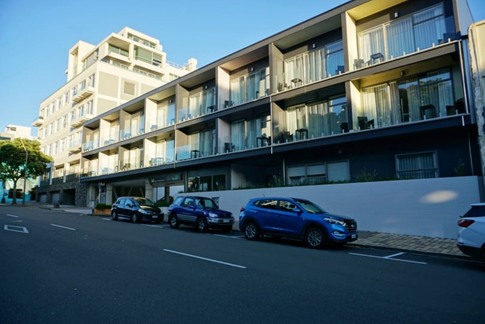 Great Value for Money
If there is one thing that is highly appreciated by our guests is the cleanliness of the rooms. Our housekeepers are highly trained and will service your room daily.
Besides, the motel has a great variety of room types. We do not stop with single or double rooms. We offer five room types which will suit every party and its budget.
Our compact studio is for the smaller parties. As the word already reveals this is a compact room with an en-suite bathroom with walk-in shower, queen size bed and a small kitchenette including a microwave and fridge.
All our studio type rooms have a spacious set-up, providing you with a super king bed (or two king singles upon request), en-suite bathroom with walk-in shower fully equipped kitchen with cook top, dishwasher, full-size fridge and microwave, and a step-out balcony. A roll-away bed could be added to this for a small surcharge. Did you know that we are wheelchair friendly? With our access studios located on the ground floor, we are able to welcome everyone!
Moreover, The Metrotel can easily accommodate families and groups, as we offer 2-bedroom studio's and 2-bedroom mezzanine studios. Likewise, interconnecting rooms can be arranged.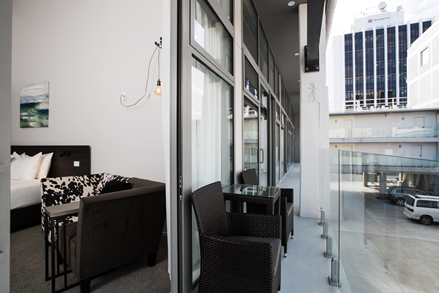 Extensive Range of Facilities
Our service does not stop by providing accommodation only. Even though we are a motel, we do offer great facilities to make your stay with us more pleasurable. We have awesome collaborations with local businesses, such as 24/7 gym facilities (including classes), dry-cleaning, charge back services with several restaurants and cafes in town and on-site professional car grooming. Experience it all and you will be indulged in the New Plymouth lifestyle while staying with us. Besides, we offer onsite self-service laundry on, (long-term) storage for luggage, bikes and other items, and complimentary un-allocated car parking on site. For owners of an electrical car we provide a complimentary charging station. Moreover, our team is more than happy to help you with arranging gift packages or flowers to make your stay with us one to remember.
24/7 Onsite Manager
For your safety and security we have our Motel Manager living on site. In case of any emergency, disturbance, or other issues the manager will be just a few doors away.
Always Friendly!
Our reception team is happy to serve you daily from 8AM till 8.30PM and are jacks of all trades. Talk to our team if you need any help with your luggage, attractions or to get the best tips to get around town. Do you need to make any changes in your bookings? Or would you like us to book you in regularly. Let our team know!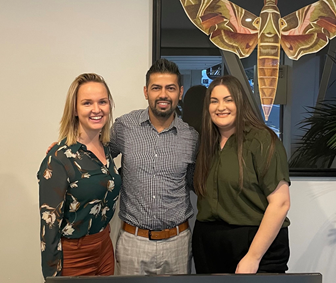 Overall, if you like to have the freedom and independence of a motel, but the perks and location of a motel, book your stay with us. We've got it all! Touch base with our friendly reception team or click on "
BOOK NOW
" to reserve your room!
We look forward to welcoming you soon at The Metrotel - Your motel that acts like a hotel!