Destination - Become a local in New Plymouth in 24 hours
---
Looking for a weekend away in New Plymouth but have no clue where to go or what to do?! Don't worry, we have got you covered! New Plymouth is only 4.5 hours away from Wellington, 5 hours away from Auckland and therefore a perfect destination for a weekend away.
In 2021, New Plymouth was crowned with the title of Most Liveable City in THE WORLD..! We reckon 24 hours might not be enough to discover the whole city, but it will give you a taste of what New Plymouth has to offer. The city has created its own vibe where surfers, snowboarders, corporates, families, nature lovers and avid foodies come together in one universal harmony. Unquestionably, it is funky, offers lots of places for artists to bloom, and is a Valhalla for foodies!
With this guide we help you to spend 24 hours in New Plymouth and ensure you have seen the highlights.
Early Birds:
CHECK-IN
After a long drive it is time to stretch the legs and start exploring the city, but first things first; do you have a reservation with us? Pop into our reception and let our friendly team know that you have arrived. Feel free to park your car on site and drop off your luggage, so you do not have to worry about those any longer. The team will ensure that your luggage goes to your room once this is ready.
COFFEE AT ESCAPE CAFE
You do not have to go far to refuel yourself with some great coffee. Escape Coffee roasts their own organic coffee beans. This cafe has created a vibe that clearly matches the city's atmosphere; relaxed, quirky, and welcoming. If you like the vibe in this cafe then you will definitely love New Plymouth!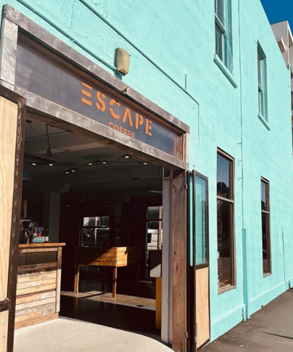 EXPLORE PUKEKURA PARK
Looking for a green oasis in the middle of the city centre? Pukekura Park will be the right place! This is New Plymouth's largest park and one of New Zealand's premier Botanical Gardens. Only ten minutes' walk from the motel. Not only is this THE place to be for concerts and festivals during the summer months, but the TSB Festival of Lights will also give Pukekura Park a magical twist in the evenings from December till February. In 2021, The Bowl of Brooklands won New Zealand's Best Large Event Venue. Nationwide people come to New Plymouth to enjoy festivals and concerts such as WOMAD, Synthony and L.A.B.
Midday:
ROOFTOP LUNCH
Enjoy a fantastic lunch at New Plymouth's only rooftop bar with an ocean view! At The Rooftop Bar you will share delicious platters with your entourage while getting re-energized for the afternoon.
GOVETT-BREWSTER ART GALLERY - LYN LYE CENTRE
If it is art that tickles you then you are in the right place. New Plymouth is full of quirky street art and it also hosts New Zealand's contemporary art museum. No dusty displays or historical paintings, Govett-Brewster shows you art in a modern and inspiring form that tickles your creativity and view of the world. Having said that, our coastal city is home to Len Lye's treasures of art and ideas. One of his iconic art sculptures "The Wind Wand" reaches high in the sky and cannot be missed.
SHOPPING
Calling all the ladies!! Indulge yourself with a great shopping session on foot when visiting New Plymouth. Across the street from The Metrotel you will find Centre City Shopping Mall with major brands and well-known shops. Alternatively, only one block away from the motel you will find Devon Street, which is New Plymouth's main street. Wander around in the countless boutique stores and shop some local products. All ingredients for a successful shopping session!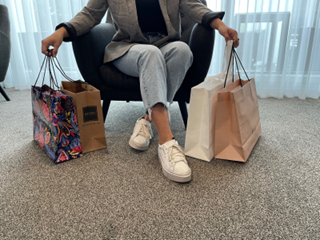 CHECK-IN TIME
It is time to pick up your room keys, drop off your shopping bags, and have a rest. While the weather is nice and sunny, enjoy a refreshment in the sunshine on the balcony and see the city pass by.
PARITUTU ROCK
Paritutu Rock is an iconic sight in New Plymouth's landscape and often photographed with the highly visible chimney. Located next to Port Taranaki the vista gives you a breath-taking view over the city and its coastline. The climb will only take you about 15 minutes, going from wooden steps into actual rock climbing. A chain alongside the track will help you get up there. Once you are on top, take a deep breath and enjoy the magnificent view over New Plymouth and its coastline. On clear days you will be able to see Taranaki Maunga and sometimes even Mt. Ruapehu, Mt. Tongariro and Mt. Ngauruhoe!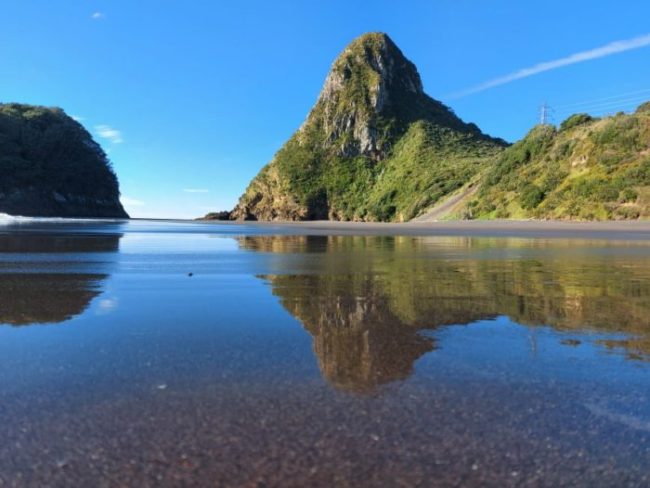 MAGICAL SUNSET
Right behind Paritutu Rock, you will find Back Beach. One of the most beautiful beaches to watch the sunset in New Plymouth if you ask our team! About 10-minutes' drive out of the city, but so worth it to finish off the day. Park your car on the top car park and release the inner child in you by running down Taranaki's only sand dune! Have a stroll over the black sand or enjoy the sunset from the cliffs overlooking the Sugar Loaf Island. You might even get entertained by some paragliders. Check out our blog on the Best Beaches in Taranaki for more details!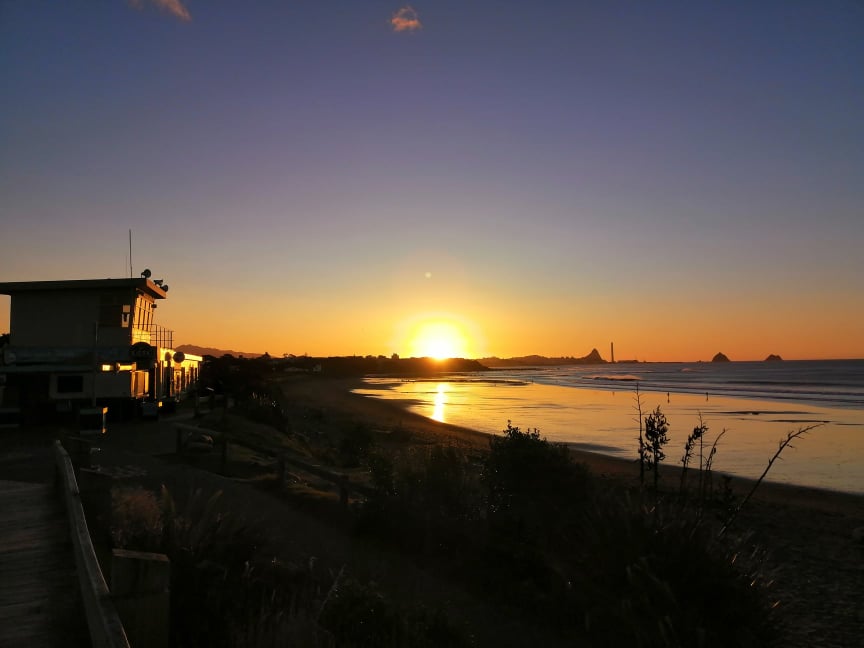 Nightfall:
DINNER AT LAUGHING BUDDHA
Looking for the best dumplings in the city? Don't have to look any further. With an open kitchen you can watch the chefs preparing your meal, while you enjoy an ice-cold Chinese Tsingtao. To make things easier for you; Laughing Buddha is one of our charge back restaurants. So, enjoy your meal, sign the bill, and pay upon your departure with us. We will do the rest!
TASTE THE LOCAL BEERS
If you want to experience New Plymouth as a local, then you have to try our local beers too! At Shining Peak Brewing they brew all their beers on site. The vibe here is relaxed, the atmosphere is beautiful, and the service is outstanding. And best of all 5% of the money you spend on beers will be donated to a local organisation! Not to mention that Shining Peak is just across the road from The Metrotel! 😉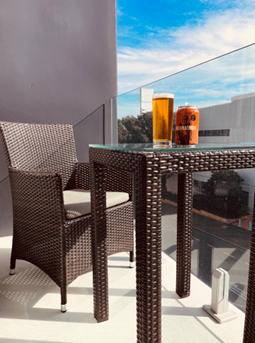 First Glance:
This is the morning of your check-out. Naturally, we understand that you want to make the most out of your trip to New Plymouth. Talk to our awesome reception team and they will be more than happy to provide you with a complimentary 11AM check out. Do you want to explore the city for the rest of the day? No problem! Just store your luggage at the reception and pick it up later during the day. Besides, you are more than welcome to leave your car on site during the day.
BREAKFAST AT EMMALOU
Before you start your big hike along the Coastal Walkway, make sure you have a full tummy. Emmalou is our guest's favourite when it comes to breakfast! Enjoy Emmalou's delicious eggs benedict or start off with some homemade granola.
BIKE/WALK THE OCEAN WALKWAY
If there is one thing you definitely cannot miss out on when in New Plymouth, it will be the award-winning coastal walkway. From Ngamotu Beach to Bell Block Beach a 13.2km walkway takes you along our stunning ocean and peaceful farmlands. The walkway is friendly for walking, biking and everything in-between including wheelchair accessible. Breath the fresh sea spray, clear your mind, enjoy the ever-changing views and above all; take a moment for yourself. If you forgot your bike, don't worry we know the best local place to hire a bike at a great rate too.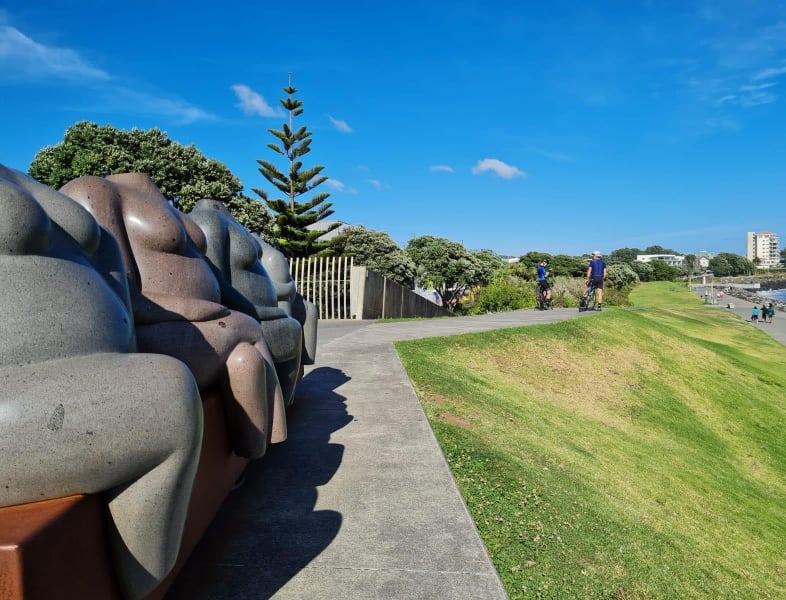 COFFEE TIME
Along the coastline there are many places to stop and have a picnic. One of those places is The Kiosk at Fitzroy beach. An awesome beach to go for a swim or watch the national and international surfing competitions, while sipping a coffee away.
TE REWA REWA BRIDGE
A popular landmark in New Plymouth and absolutely Instagram-worthy is the Te Rewa Rewa Bridge. From far away you will see the white steel arched bridge, representing a whale skeleton or a breaking wave. The bridge is perfectly located in front of the mountain and with a sunny blue sky and the lush green grass all around this is a guarantee for iconic pictures. The bridge crosses the Waiwhakaiho River, which comes straight from Mt Taranaki ending in the ocean, and connects west New Plymouth to East Bell Block.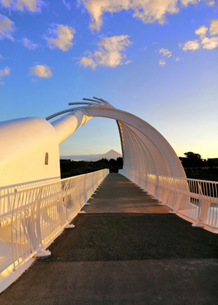 That is it; 24 hours in New Plymouth! As locals we can already tell you that 24 hours is not enough time and we are sure you will feel the same on your check out day. So why not stay a little longer?
We cannot wait to welcome you and show you the beauty of our hometown. See you soon!