Travel - Top tips to make your stay with us feel more like your home.
---
Some of our guests spend more time in hotels and motels than they do in their own house. They are either on the road, on the job, or staying overnight in their chosen accommodation. Therefore, we have some tips to make your stay "your home away from home" with courtesy of our regular guests' input as well.
Make your room like your home
Making a motel room feel like your own cosy space could be quite tricky, but nothing does the job quite as well as taking family picture frames and personal touches to brighten up your room. Besides, fragrances have the power to bring you back instantly to memories of a certain moment or place. Do you have a specific candle you always light up in the evening? Or do you use essential oils to calm down after a busy day at work? Use them to create that familiar atmosphere.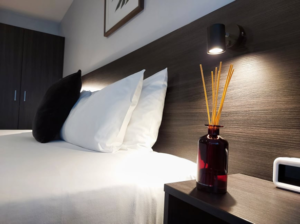 Unpack your bags
Living out of a suitcase can make you feel unorganized and tired, especially when you're on the road for a long time. Also, it will always remind you that you are not at home and therefore you will never achieve that comfortable feeling. Take those ten minutes to unpack your suitcase and hang your clothes in the wardrobe. This will also save you time and irritations the next morning, trust us!
Cook your favorite meal
New Plymouth has a lot of wonderful restaurants to choose from and with our charge back service, we make it way too easy for you to enjoy a delicious breakfast, lunch, or dinner. However, cooking your own favorite meals just like you would do in your own kitchen will give you more of a homely feeling. Our rooms provide a fully equipped kitchen, with a full-size fridge, cooking hob, and microwave. Put your loungewear on, take your makeup off and dine while watching Netflix. (Can you already picture yourself?) And once you are finished, pop the dishes in the dishwasher and you can call it a day!
Become a local in New Plymouth
We all have that little cafe, restaurant or take away in our hometown that greets you by your name and knows exactly what you would like to order. This is what makes you feel comfortable in your town. Why not create that same feeling in New Plymouth? Become a local and add a restaurant or cafe into your work-away routine. For example, every time you are in New Plymouth, enjoy your first night away with a mouth-watering Italian pasta or finish off work-away with a delicious breakfast in a French Cafe! Charge back your meals to your room and pay for it upon departure. In a few weeks, they surely know you by name and you will be one of us!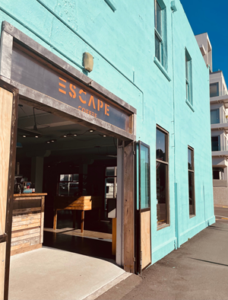 Bring your own pillow
For many people, the feeling of ultimate comfort and safety is putting their head down at the end of the day on their own pillow. Studies show that many people are affected by sleeping on an unfamiliar pillow. This makes a pillow a personal thing. Are you one of these people that struggle to fall asleep when staying in a different place than your room at home? Just bring your own pillow with you! It won't take up that much space in your suitcase, but it will provide you with a heavenly sleep. You can even store your pillow with us, we will ensure that your pillow will be on your bed on your arrival.
Unwind like usual
Do you usually clear your mind with a bike ride after a busy day at work? Just do the same when you are staying in New Plymouth! Bring your bike with you or rent one in the city and unwind on one of the many bike paths in and around the city. Do you choose a relaxing ride along the ocean or a bumpy ride on one of the mountain bike tracks around Lake Mangamahoe? While you are at work or enjoy your well-deserved rest, we will ensure that your bike is stored safely with us.
Do you rather catch some waves after work, or would you like to relax with some yoga in your room? We do have space to store your equipment!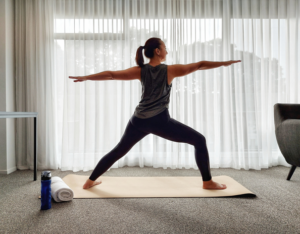 A virtual goodnight kiss
With everyone being online these days, the world is becoming closer, and so is your family. Log in to your unlimited WiFi and Facetime with your kids before they go off to sleep. Keep the bedtime routines, just like you do at home; chat about their day and read them their favorite story. This will keep your kids, as well as yourself, into the daily routine and make them miss you a little less.
Bring the family
Your family is what makes your home a comfortable and loving place. Take them on your work trip and spend your time after work with your loved ones! We can easily add a roll-away bed for the little ones or upgrade you and your family into our two-bedroom family units.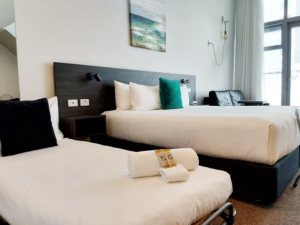 Travel and meet up with your friends
Do you have friends that have to travel to New Plymouth for work often, just like you? Try to travel on the same dates and stay in the same motel. You not only create new memories with your friends, but you also make your work-away a lot more enjoyable!
Also, say hi to your neighbours in the motel. It is very likely that they are as often on the roads while travelling for work as you are. When staying with us on a regular basis it will be likely to see the same guests staying with us. Invite them for a beer after work or a coffee in the morning, expand your network while creating a familiar environment.
Talk to us!
Every day, we try to make our product and service as much as 'a home away from home' as possible. We recognize our guests and during every stay we get to know our guests a little bit more. Besides, we try to avoid as many usual processes as possible.
Are we missing out on anything that could make your stay more comfortable? Let our friendly staff know what you prefer to have in your room; Is it a hard pillow? A gym pass upon arrival? Or do you want to leave your luggage with us, as you travel weekly? We will ensure it is arranged on your next arrival with us.