Interview - From drawing board to popular boutique motel in New Plymouth
---
This year, The Metrotel is celebrating its fourth anniversary. As the current lockdown has taught us again; life is precious, and we should cherish the little moments in life. We would like to take a moment to cherish our 4-year journey. What started as just an idea, is four years later, a place that guests can create new memories, keeps other local businesses in service and our people have grown over the years. We would like to thank all our team members, suppliers, clients, and guests for your trust in us and for being a part of The Metrotel's success over the years!
Taking you back to the start of The Metrotel is taking you back to 2012, when Sue and Neil Drought, ex-dairy farmers from Opunake, found an opportunity in the region's lodging industry. Back then, they were running The Waterfront (currently owned by Millennium Hotels) when they noticed an increasing demand for central accommodation in New Plymouth with kitchens. This is where the idea of an inner-city boutique motel started.
Right in the heart of New Plymouth's CBD, Sue and Neil saw possibilities in the old bare Hayton Plumbing warehouse with a few shops in the front on 22 Gill Street. Many locals will still remember the old building as a place to buy carpet, a run-down car parking area or where the odd music gig took place during the weekend. The old building had to make way for a 31-room, modern-looking boutique motel. Nevertheless, the new owners wanted to keep the history alive and cleverly incorporated original elements into the unique building. Chris Bell Constructions took on the huge project and delivered a well-executed motel.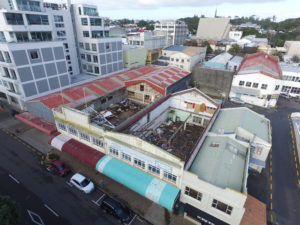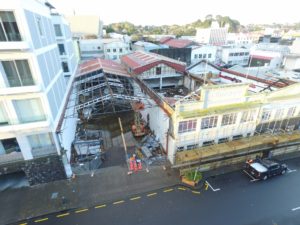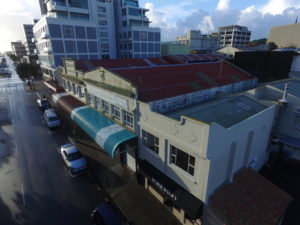 Your Hosts

The Metrotel buildings are owned by Sue & Neil Drought and the business is owned and run by their oldest son Mark Drought and his partner Melissa Anslow, who in their own words are;
"A couple that tries to work together, live together and run a business together."
Outside of the motel they have a 7-year-old daughter and one dog that keeps them busy.
Mark, who was born and raised in Taranaki, started his career in the building industry. Being born and raised with parents in the dairy industry, who then transitioned to the hospitality sector themselves. Mark had to give it a try himself. He stepped into the world of hospitality and got a job at The Waterfront hotel where he became a manager. His partner Melissa was born and raised in Wellington and used to work in the oil and gas industry.
"I still remember that phone call from Mark, when he told me about his parent's plan to open a motel in New Plymouth, finishing off with the question if I wanted to run the motel with him? 'No way!' was my first reaction. I did not have any experience in the hospitality industry, nor in running a business."
However, as the plans developed and became more concrete, Melissa rolled into it and together they grabbed this opportunity with both hands.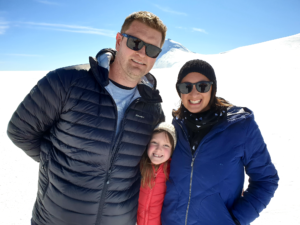 Started from the Bottom, Now we're Here!

"Four years of The Metrotel, where to start?! So much has happened! We had to get familiar with everything, from reception to housekeeping, and from maintenance to finance."
Melissa says.
"The days were full-on! After my shift I contacted my network to teach me accounting and, in the evenings, I followed free online finance courses. Luckily, we had Sue to help with the accounts at the start, so that we could get familiar with the front of the house. Also, The Waterfront would send staff over in the morning to help get the rooms ready.
"
The doors were opened on 26 August 2017. "
When we opened the doors, some of the rooms weren't finished. The elevator spoke Spanish for several months and some furniture was not in place
" Mark says. On top of that, their first guests came in one day before the official opening. A couple from Germany walked into the reception and were wondering if the motel was open, as they were after a room for the night. For a split second Mark and Melissa looked at each other and realized that this was the moment to take off. With their warm hospitality, they welcomed the guests and booked them in for the night.
"With great results; The guests were not only our very first guests, but they also left us our very first review!"
The opening was quite hectic, and the couple did not know what to expect. Melissa used her network to sell the rooms to corporate clients. The company grew slowly but took off once they got their first corporate contract.
"Every Monday morning, we had about 20 guests checking in with us that stayed for the week. We really got to know them personally and knew their personal preferences."
Mark says.
"Over the years we have created a warm, welcoming, and very accessible environment for our guests. We recognize our regular guests by their first name, know what is going on in their lives, and know what they like to have in their room to make their stay more comfortable. It is our goal to provide a memorable experience to all our guests and to be the people's first choice when in search of accommodation in New Plymouth."
Challenges

Talking with Mark and Melissa, you will quickly notice that they are very positive minded.
"During the past four years there has been a lot of trial and error and we think it is a great achievement that we are still open after 4 years! The motel has grown substantially. Our name is out now, and people know where to find us. It's great to see our regular guests returning and recommending the motel to their friends and family. It makes us so proud when we reach 100% occupancy and to receive great reviews."
Melissa says.
Being in the first few years of your business and having to face a worldwide pandemic is not an ideal situation for any business owner. The Metrotel had to close the doors for about a month when New Zealand went into its first lockdown. "
For a short time, it was challenging, especially in the beginning. However, we are so proud of how New Zealand bounced back and how easily Kiwis have adapted to the new situation. People started to discover their own backyard and went to places that they have never been to. We have had lots of guests staying that have never been to New Plymouth before and were happily surprised by what this city has to offer."
Mark and Melissa have faith that also after the current lockdown, Kiwis will bounce back and make use of their freedom to travel the country.
Starting from the bottom in an unknown industry, doing lots of self-study, and running a business might sound like a nightmare for most of us, however, Mark and Melissa will easily go through this again as they have developed so many new skills.
"The hospitality industry is all about people and keeping everyone happy is an ongoing challenge. Personally, we still find it very challenging when guests are not happy or when they leave a bad review. Over the years we have won several awards from travel websites. It's great to get that appreciation from our guests."
For the first time in four years, The Metrotel has entered the New Zealand Hospitality Awards. A nationwide recognition within the hospitality industry. The Metrotel is competing in the category 'Best Motel' among 5 other finalists.
"We are so proud to be chosen as one of the finalists in our first year of entering!"
The awards were due to take place in September. Due to the current lockdown this has been postponed until November. Yet another challenge for The Metrotel but they are very excited.
The Metrotel Family

The Metrotel is a melting pot of different nationalities which comes with its own language and culture challenges but makes working together so unique and so much fun. 
"Over the years, we have created a Metrotel family, and we truly care about our team. We have created a warm and inviting environment. It is an amazing feeling to see staff members grow over time, personally and professionally.
Every member has their own short-term and long-term goals. It is great to help them out where we can and celebrate achievements with them. We are trying to get people through the ranks. I wish I could even do more, but unfortunately, we don't always have these opportunities, as we are a small business".
The Next 4 Years

Mark and Melissa have just finished a business course. Six months of hard work, dedication, and lots of learning.
"Let us tell you; It opened up our eyes to different avenues we never thought were possible. We believe there are still many more steps to be taken and there is space to grow. The positive energy level is high, and we are ready to take The Metrotel to the next level! We look forward to welcoming back our domestic travelers and we cannot wait to see our international travellers back".
Taking a step back to look at where we came from; a design and a piece of paper, to sitting here reminiscing on our journey, that is just something to be proud of!